1824 was a particularly difficult year for the Dickens family. As we saw in 'The Inimitable Mrs Dickens ',  John's debts had spiralled out of control and our great matriarch, Elizabeth, had been unable to remedy the problem. When the family's cousin and former lodger, James Lamert, swooped in with an employment offer for Charles, it seemed like a step in the right direction. Grateful of the offer, John and Elizabeth immediately accepted. But the experience at Warren's Blacking Factory would leave an indelible scar on the young Dickens and, more importantly, on the relationship with his mother.
On 9 February 1824, only two days after his twelfth birthday, Dickens left his home at 4 Gower Street North and walked the three miles to Warren's Blacking Factory. Situated by the Thames, at Hungerford Stairs, it was a "crazy, tumbledown house with rotten floors and a staircase." Here, for ten hours a day, Monday through Saturday, Dickens pasted labels onto the individual pots of blacking, a mixture used for polishing boots. In return he received six shillings per week – around £12.50 in modern currency.
The "Young Gentlemen"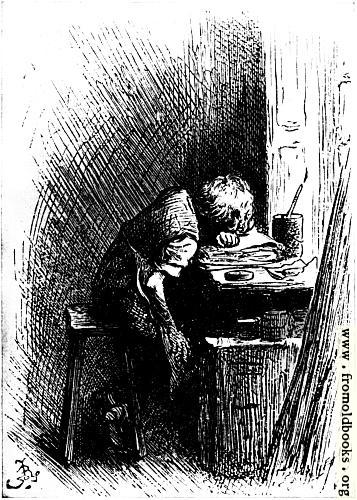 This was a far cry from his idyllic days in Chatham and the educated Dickens soon became known among his fellow workers as the "young gentlemen." While some may have treated him as an outcast, one boy named Bob Fagin took Dickens under his wing. (He would later become the namesake for one of Dickens' most famous villains, Fagin, in Oliver Twist).
How long he toiled in that "dirty and decayed" environment is a subject of much speculation. He was still there at the time of his father's release from the Marshalsea in May 1824 and may only have left in time for enrolment at the Wellington Academy in the following year. Either way, the psychological impact of his time at Warren's should not be underestimated:
"no words can express the secret agony of my soul as I sunk into the companionship of common men and boys..The deep remembrance of the sense I had of being utterly neglected and hopeless; of the shame I felt in my position; of the misery it was to my young heart to believe that, day by day, what I had learned, and thought, and delighted in…was passing away from me, never to be brought back, cannot be written"
We do not have to look too far to see that this sense of neglect and emotional trauma stemmed – in part, from his mother. She certainly disagreed with John's decision to remove Charles from the factory and place him in the Academy: "I shall never forget, I can never forget, that my mother was warm for my being sent back." Looking to his fiction, we find a damning portrayal of Elizabeth in the character of Mrs Nickleby – a woman content to marry her daughter into a life of misery.
Having only Dickens' thoughts on the Blacking Factory affair, it is very difficult to speculate on Elizabeth. One thing is for certain – she did not fit the mould of Dickens' ideal mother and whether this was a case of unrealistic expectations or genuine neglect, we will never know.
Kaye Jones
For more, see Kaye's Charles Dickens: History In An Hour published by Harper Press, and available in various digital formats.
See also Charles Dickens and the Marshalsea Prison and Dickens' Christmas Carol.